This Chocolate Bourbon Ball recipe has been a holiday staple in my family for as long as I can remember. According to my folks, this recipe pre-dates me, "back when they were young and foolish". Apparently, you can substitute the choice of alcohol and the type of nuts, but why would you?
A little family history
Our Cookie Countdown was born from more than a desire to try new recipes, master and tinker old ones, and while away the last few weeks of 2020. This 24 day project was born from decades of cookie baking traditions. Traditions that precede me and continue on with the next generation. December is a month that I am flooded with family memories. Including time spent in a kitchen baking with my mom and sister, then sharing those treats with neighbors, and enjoying them ourselves Christmas morning. When I got married, I felt so blessed that my hubby's family has an annual cookie baking tradition as well. This December, we still carry on those traditions, and as this project shows, they are rooted in our children's generation.
Jack's Chocolate Bourbon Ball
This is a picture of me with the man who gifted this recipe to my family back in the early 70s. He introduced me to tomatoes and bourbon balls. Mom says he just loved how I enjoyed the tomatoes that he would bring from his wife's garden in Eastern WA. Apparently, I ate them like an apple! Unfortunately, I really don't remember much of him, as he passed when I was very young. However, when December rolls around he is always near. Thank you Jack!
I'm not a bourbon *snob
I don't particularly enjoy bourbon on it's own. It's a taste I haven't really acquired; I probably wrecked it in college. If you are a bourbon snob and have that acquired taste, by all means, choose your bourbon wisely for this recipe, and don't read the next sentence. We had a partial bottle of Jim Beam, but it wasn't enough for the needed half-cup, so I scrounged up a bottle of Heritage Distillery's Batch No.12 in a mini-bar size and used that to top off the JB in my measuring cup. Time will tell how it works out!
*connoisseur
The Chocolate Bourbon Ball recipe
There are a few things I really remember about making this recipe when I was younger. First, is just the way they look after they have been sugar-sanded. It always reminds me of frosted soil. Then, there are a couple ingredients that require chopping or crushing: pecans and Nilla Wafers. My sister and I would get to smash the Nilla wafers with a rolling pin in a plastic bag or between layers of waxed paper to get them to the appropriate size, which was generally fun. The other particularly memorable job, was to chop the pecans in one of two nut grinders we had growing up. This was always fun to start, but then the hand or wrist would inevitably cramp. Does anyone else remember using this?
Or this: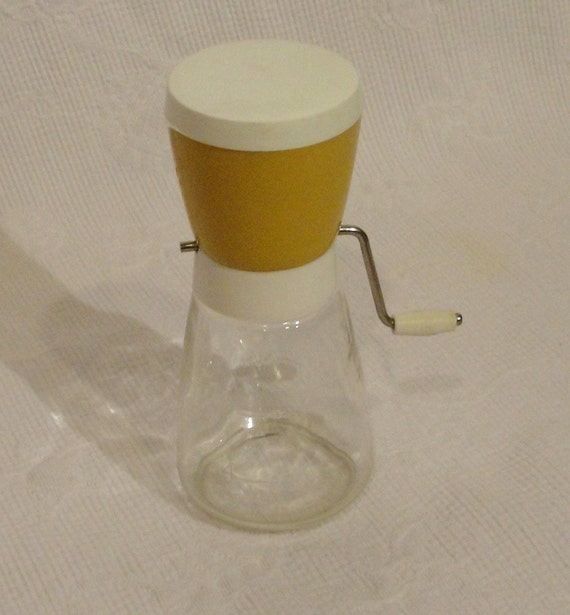 Ah, the good old days. I reminisced about these as I tossed the Nilla Wafers, and then the pecans into my food processor. The job was done in under a minute, and no cramps. It wasn't nearly as satisfying though…
Chocolate Bourbon Ball
A delicious no-bake holiday treat for the grown-ups

Ingredients
6oz semi-sweet chocolate chips
3 Tbls corn syrup
1/2 Cup bourbon
2-1/2 Cup vanilla wafer crumbs
1/2 Cup powdered sugar, sifted
1 Cup finely chopped pecans
granulated sugar
Instructions
Melt chocolate chips in double boiler over hot (not boiling) water. Remove from heat and add corn syrup and bourbon. In a large bowl, combine vanilla wafer crumbs, powdered sugar, and pecans. Add chocolate mixture and mix well. Let stand for 30 minutes. Form into 1″ balls and roll in granulated sugar. Let season in a covered container for approximately 2 weeks.
© 2022 Copyright Crafting Our World
I hope you enjoy this treat, as we have through the years. It was especially popular with my college friends, and it makes a great grown-up stocking stuffer. Don't forget to make it ASAP so it can be properly seasoned before Santa comes!
May your holiday baking be full of fond memories, old AND new!